Kaapse Klopse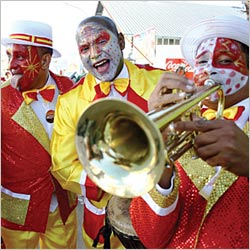 Month :
January
Place :
Cape Town, South Africa
Famous For :
Traditional Festival
Attractions :
Street Parades with Singing, Dancing, Costume Competitions & Marches through the Streets
The Kaapse Klopse is a colorful festival celebrated every year on January 2, in Cape Town, South Africa. It's also called Coon Carnival by Cape Town inhabitants & local authorities have renamed it as Cape Town Minstrel Carnival. On this day, up to 13,000 minstrels, many in black face, take to the streets garbed in shockingly bright colors, either carrying colorful umbrellas or playing an array of musical instruments.
Major Attractions
The festival of Kaapse Klopse begins on New Year's Day and continues into January. The main attractions of this festival are street parades with singing and dancing, costume competitions and marches through the streets. Traditionally, this festivity has been a site for grievances against white supremacy. The resource of the festival parade are the horrors of slavery. Kaapse Klopse traces its origin back in 1848, when ex-slaves whited up their faces and sung songs parodying the behaviour of important local figures and the tradition has been passed down through families ever since. Around 13,000 white faced minstrels don their brightly colored garb and musical instruments and parade through the streets of Cape Town on New Years Day. Nowadays, The parades congregate in Greenpoint Stadium where there is more singing, dancing, music, costume competitions and lots of boisterous behavior.
Official Website :
http://www.travelafrica360.net/kaapse-klopse-exuberant-carnival-of-cape-town.html