General Lohri Gift Ideas
Traditionally people have been giving cash as a Lohri gift. But today this idea sounds cliched and very uncreative. This is because cash lacks personal touch and fails to convey good wishes in an effective manner. To help you participate with charm and charisma in a vibrant Lohri celebrations here are some special Lohri Gift Ideas.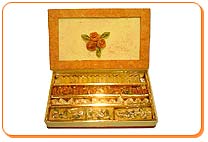 Sweets / Mithais
Sweets or Mithais are an all time favorite gift for any Indian festival! Select a festival special decorative sweet box and keep the choice of recipient in mind while selecting the mithai. For a lasting impact compliment sweets with a gift and to make a wholesome Lohri Sweet Hamper.
Rewri Gajjak Hampers
Rewries and Gajjak are traditionally associated with the festival and hence they make a wonderful Lohri Gift idea. You may browse through the Lohri special packs of rewries and gajjaks along with their hampers in good Indian shopping site for better options.
Dry-Fruit Hampers
As Lohri festival falls in winter season, dry fruits are a wonderful gift idea. These day dry fruits come in attractive packing them a preferred gift idea.
Pooja Thali
Pooja Thalis are a fashionable gifts for traditional festivals. One can find a huge range of puja thalis along with relevant accessories in the market. Puja Thalis in brass and silver are quite popular these days.
Fresh Flowers /Artificial Flowers
Beauty of flowers whether fresh or artificial is always appreciated. As winter is endowed with a great variety of fresh flowers you may go in for a fragrant bouquet of fresh flowers. Artificial flowers are also a good idea as their beauty can be admired for a long time.
Lohri Fun