Tribeca Film Festival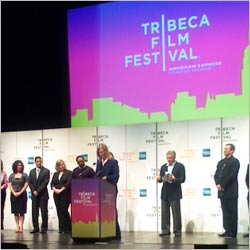 Month :
September
Place :
New York, U.S.A
Famous For :
Film Festival
Attractions :
Started in response to attacks on the World Trade Center (U.S.A), Documentaries, Narrative Features and Shorts, Family-friendly Films, Panel Discussions, Artists Awards Program
The Tribeca Film Festival is amongst world's most spontaneous events which have started as a result of some unexpected activities. This film festival was started in a response to the September 11, 2001 attacks on the World Trade Center in New York, U.S.A. The Tribeca Film Festival strives for the principle which focuses "to enable the international film community and the general public to experience the power of film by redefining the film festival experience."
Major Attractions
The Tribeca Film Festival is a grand platform to celebrate New York City as a major film making center. It was founded by Jane Rosenthal, Robert De Niro and Craig Hatkoff to contribute to the long-term recovery of lower Manhattan. It was actually started as a consequent to loss of vitality in the TriBeCa neighborhood in Manhattan, after attack on World Trade Center. Within no time, the Tribeca Film Festival has become one of the most prominent film festivals in the world. The main attractions of the festival includes a wide variety of independent films including documentaries, narrative features and shorts, as well as a program of family-friendly films. Other events like panel discussions with personalities in world entertainment, artists awards program where emerging and renowned artists celebrate filmmakers by providing original works of art and other prolific events make Tribeca Film Festival a grand event.
Official Website :
http://www.tribecafilm.com/festival/