New Year Messages
New Year is wonderful time to reach out to your loved ones and express your heartiest good wishes to them. Through this page we give you platform to openly express your good wishes for friends and dear ones around the world. Imagine how thrilled your loved ones will be to see New Year messages for them along with their names on the net!! So what are you waiting for, send in a cute and special New Year's message for your dear ones and make the coming year really special for them.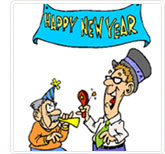 New Year's Message
Sabke Dilo mein ho sabke liye Pyar,
Aanewala har din laye Khushiyon ka Tyohar,
Es ummid k sath aao bhulke sare Gum,
New Year 2009 ko Hum Sab kare WELCOME.
Jagat Rawat.
To all my staff members,
It has been wonderful working hand in hand with all of you! Let's not only celebrate, but also repent & start afresh. Let us unite the more & let God be with us throughout the New Year.
Love and Regards.
Going to miss you all
Mumdy
Charles!
You have been wonderful than I expected! You are Amazing! Honestly, I can't find a word to express my gratitude. Just promise to love you the best I can and expect much love on this New Year.
With Love,
Candy
With all the Rose's Perfume and with all the lights in the world and with all the children smiles. I Wish U that your all dreams come true.
*HAPPY NEW YEAR 2010*
Amit
Hi Mama & Papa
Wish you a Very Happy & Auspicious New Year. May God bless you with good health, happiness and peace. Love and Regards
Mitali
My Dear Abhay
Here is wishing you the best ever New Year. Missing you a lot. Wish I could spend the New Year with you.
Love
Ragini
Dear Kim
Wish you a Jolly & Bright 2014. Have a blast on the New Year and have a very happy year ahead.
Johny
Dearest Sister Preeti
Wish you a very Happy new year 2008. Wish I could fly home and celebrate the New Year with you and Mummy - Papa. I am really missing the fun we had last year.
Love & Good Wishes
Priyank