Gay/Lesbian Festivals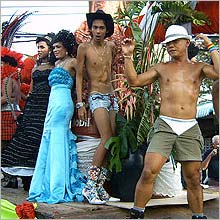 The Gay and Lesbian festivals are a showcase of advanced and developed world. These celebrations speak out the fact of fundamental rights being accepted for everywhere and for everyone. Gay/Lesbian festivals are popular observances for homosexual people who love to make out with same sex. The most famous Gay/Lebian festivals re Love Parade, Key West Fantasy Fest etc. The main highlights of this festivals are parties, street parades, film shows, prides, fashion shows, dance and drinks.
Love Parade
Month:
August
Place:
Berlin, Germany
Attractions:
Golden Angel, Gay & Lesbian Parades.
Key West Fantasy Fest
Month:
October
Place:
Key West (Miami), U.S.A
Attractions:
Fetish Party, Headress Ball, Danceapalooza, Celebrity look-a-like competition, Wet T-Shirt Competition, Toga parties.