Flower Festivals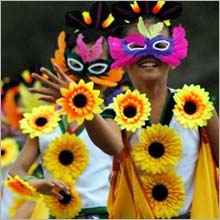 A flower festival is amongst the most pleasant observances, celebrating the natural flora. A bevy of colorful budding flowers will refresh your senses in these serene celebrations all over the world. The most vibrant of all flower festivals is the Floriade festival held in Australia. Besides an enchanting display of flowers, these festivals also involve other attractions like sculptures and other artistic features, music concerts,cultural events, artistic displays as well as other entertainment and recreational activities.
Festival of the Flowers
Month:
August
Place:
Medellin, Colombia
Attractions:
Silleteros Parade, Pageant, Automobiles, Paso Fino Horse Parade, Musical Concerts
Chelsea Flower Show
Month:
May
Place:
Chelsea, London
Attractions:
Centre piece of the floral Marquee, Designed Gardens, Lauch/Re-launch of new/old plants.
Floriade Festival
Month:
Sept/Oct
Place:
Canberra, Australia
Attractions:
Flowering bulbs with integrated sculptures and other artistic features, Live Music Performances
Daffodil Festival
Month:
April
Place:
Pierce County, Washington (U.S.A)
Attractions:
Parade of automobiles decorated with Daffodil flowers
Lilac Festival
Month:
Late May
Place:
Calgary, Canada
Attractions:
Open Air Music Concerts, Picnic.