Pflasterspektakel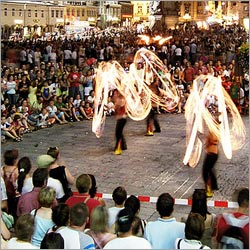 Month :
July
Place :
Linz, Austria
Famous For :
Street Festival
Attractions :
Musical Acts, Juggling, Acrobatics, Pantomime, Improvisational Theatre, Clownery, Fire Dancing, Painting, Samba Parades
The Pflasterspektakel is a much awaited street party festival celebrated in Linz, the capital of Upper Austria. It"s a three days event held during the month of July every year. The main attractions of this street party festival includes musical acts, juggling, acrobatics, pantomime, improvisational theatre, clownery, fire dancing, painting, samba parades. Other interesting events like a programme for children make Pflasterspektakel a must experience event. Tagged as world"s leading festival of the street art with participants from more than 30 countries, this street party event is held in and around the main square and the Landstrabe. In case of rain, the event moves to the old city hall and other indoor locations.
Major Attractions
The festival of Pflasterspektakel traces its origin to the year 1987, when it was started by Siegbert Janko with the name of Internationale Stra"enmusikantentage (International Street Musicians" Days). After a successful first edition, it was decided that the event will be held every year under the present name of Linz Pflasterspektake. Besides the musicians and samba dancers act of first edition, other events like acrobats, magicians and mimes wee also added. The Pflasterspektakel kicks off with an opening ceremony on a Thursday at 4 p.m. The following Friday and Saturday witnesses the festival starting at 2 p.m till midnight. Improvisation of a finale (or several finales) on Saturday evening on the main square is another important feature of this street party festival. Other features of Pflasterspektakel festival includes circus acrobatics and the street theater artists, theater in caravans, wooden marionettes and shadow uppets etc. Impressive improvised performances of mimes, a "make-believe area", which is a stage presenting show for children or a breathtaking show on hydraulic stilts and trampolines presented by the French company are some other events which make this street festival unique.
Official Website :
http://www.pflasterspektakel.at/