Pukkelpop Music Festival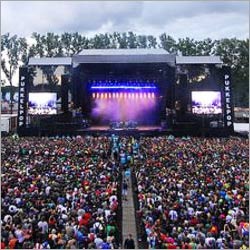 Month :
August
Place :
Hasselt, Belgium
Famous For :
Music Festival
Attractions :
Second Largest Music Festival in Belgium, Eiht Stages for Performances, Various Music Genres like Rock, Pop, Electronic, Dance, Hip-Hop, Punk & Metal
Pukkelpop is recognized as the second largest music festival in the country of Belgium. This much awaited music festival is an annual event observed during mid-to-late August . The 2010 edition of Pukkelpop is all the more important as it marks the 25th anniversary of this musical gala. On the silver jubilee function, the highlights of Pukkelpop music festival will feature performance by artists including the likes of 2 many DJs, Iron Maiden, Placebo, The Prodigy, Queens of the Stone Age and Snow Patrol.
Major Attractions
The Pukkelpop music festival is organized in the village of Kiewit near the city of Hasselt, Belgium. It's a three day event featuring eight stages and over 200 acts. The celebrations are held within a large enclosure of fields and woodland called 'Kempische Steenweg'. This music extravaganza traces its advent in the year 1985, when it was founded by youth organization Hujo (Humanistische Jongeren van Leopoldsburg). The main highlight of Pukkelpop music festival is the wide range of variety in music it offers. Spanning styles such as rock, pop, electronic, dance, hip-hop, punk and metal combine on one platform to make this festival a "progressive and contemporary" musical event. Star performances in past at Pukkelpop music festival include Sonic Youth, Ramones, Nirvana, Red Hot Chili Peppers, Neil Young, The Smashing Pumpkins, Radiohead, Metallica, Green Day, Foo Fighters, Guns N' Roses, Pixies, Daft Punk and Nine Inch Nails.
Official Website :
http://www.pukkelpop.be/en/info/at-the-festival-site/